You can make a lot of money on the Internet. Most companies are well aware of this fact: whether affiliate programs, e-commerce stores, online shop, classic landing pages or a simple blog, all of these approaches can help to increase sales. But few companies know how to do the whole thing.
The success of powerful, effective systems is no coincidence. Whoever wants to do like it, must first define what "success" is – and for each individual business case. Each Internet site is different in its performance and has different goals. However, these objectives must be determined in advance.
As an example, consider a classic online shop: The focus is on the sale of physical products, and the launch or launch has been successful. What now? Will the shop continue on its own and will it bring the expected sales? Is the target reached? In my experience, this is exactly the mindset in about 80 percent of the companies. Unfortunately, this rarely corresponds to the facts. The typical fate of an online shop looks very different.

I quote any e-commerce Manager: "We had a creative agency with the implementation of the online store, which had some good references. In fact, we agreed on a design that seemed to us to be contemporary and well thought out. The structure and implementation of the shop result from the assortment. Before the launch, we hired another agency to apply the most important keywords in the search engines. With success: After a certain time, we were able to welcome more and more visitors to our website. But sales did not increase to the extent that we wanted to. Even top 5 positions in the main search engines did not lead to a noticeable increase in sales for the corresponding products. "
Collect and analyze data
In order for a shop to be truly successful or in some cases "only" to build on previous successes, several steps must be taken from the conversion process. Only by measuring the relevant key figures can it be shown whether changes (and of course ideally improvements) have been set in relation to the initial situation. The following aspects should be examined as key figures:
Number of Visitors
Bounce Rate
Dwell time
Number of pages/visit
Number of orders
Return rates
The number of orders of an online shop is, of course, the most important key figure that should be used for optimizing conversion rates. Typical web analytics programs such as Google Analytics or Piwik as well as conversion tools such as Mouseflow or overheat are an effective tool for this.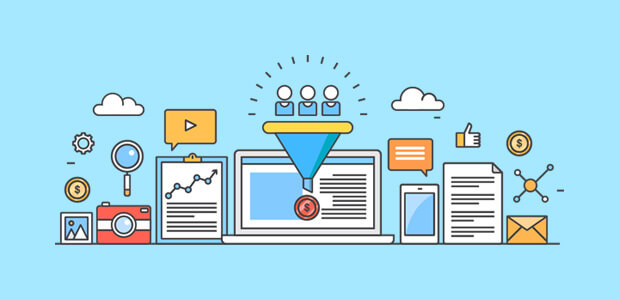 Shop Meets user = Error
By sifting through the analysis data, in most cases, new questions will arise, which in turn can lead to the formulation of concrete measures. But beware: When the data is being sifted, only the pure data reference is often used. However, it is much more important to obtain data in combination with the user behavior in front of the monitor. Because the users of online shops are people and want to be treated as such. So a certain emotional component must be given to make a purchase decision.
It is therefore advisable to make reference to the offline world, for example to a retail store. There, the senses of the buyers are targeted for the promotion of sales: the visual perception with the eyes, the auditory perception with the ears, the olfactory perception with the nose, the taste perception with the tongue and the tactile perception With the skin. In the network, the addressing of these senses is of course only limited, but here too you can work skillfully with audiovisual, content and optical elements and thus increase the likelihood for a purchase decision of the users significantly.
However, caution should be taken again: the use of such elements should not be exaggerated, as they can otherwise quickly become annoying, for example when working with wild color overlays. For the users and potential customers in front of the monitor, it is only about the essentials and this exactly should be addressed with properly dosed stimuli.
Reduced to a minimum:

To encourage users to see a specific product or the benefits of a product at first glance, you should remove any elements or colors that you do not need in the first step.

The correct wording:

Words such as "must", "should" or "but" have a repulsive effect on readers, as they have a negative impact. It is also advisable to make a "solution" from a "problem".

Prices & Discounts:

Whether it's on the home page, the category page, the item detail pages, or the planned landing page for a product or bundle: it is always a matter of making the reference to the product and the price. Perks (for example: instead of €19.99 for only €9.99) are clearly present here. Often, many products are also displayed in the category listings, which can quickly lead to a stimulus overload.

Creating Trust:

A simple but very effective measure to increase sales are trusted badges, which suggest confidence through customer voices, and should accompany users to the checkout process. Even classic "guarantees" such as the 30-day money back guarantee ultimately have a positive effect on sales figures.

Data Protection Information:

If there is a trusting element just before the order button, such as "Your data will not be passed on to third parties", in the best case still supported by a small icon, this can also strengthen the trustworthiness of the company and Have a positive impact on users ' purchasing decisions.
Control measures
In order to be able to measure the efficiency of the initiatives carried out, the next step should be to put the controls on. Did the activities carry out fulfill their purpose? Were there any measures that worked particularly well? What resources have a lot of budget and time? Was there a positive ROI (return on investment)?
The answers to these and other questions will make it easier to initiate the whole process again and optimized, thus continuously improving the shop in a cycle. A very appropriate way to make comparisons between before and after are so-called A/b tests. This makes it possible to test different variants of the elements of individual pages.
A/b tests are very popular among online marketing specialists because they help to measure changes on a website objectively and numerically. One or the other could already find that website visitors are far from ticking the way they imagine it.
A/b tests alone make blind
In addition to the objective comparability of two variants, the handling is also very simple. Thanks to numerous easy-to-use tools, the first comparison tests can be carried out quickly and without much effort. But there is also a snag in the matter: if a Web analyst or conversion Manager detects several improvement potentials on a website, he cannot optimize them all at the same time.
The reason for this lies in the nature of the A/b tests themselves. It is only possible to detect if a page performs better overall after the changes have been made. Which of the measures has brought about an improvement (or even deterioration), cannot be determined here in detail. As a result, multiple revisions need to be tested incrementally, which costs time, and thus money.
Another problem is that in every step only the best variant is chosen. How the second best or third best variant would behave in conjunction with upcoming changes can no longer be performed.
Another drawback of A/B testing is the amount of data required. This makes it difficult for small to medium-sized pages to get meaningful data in a timely manner. Therefore, it may take a long time for such pages to perform a series of optimizations.
Are there alternatives to A/B testing?
It is recommended that you use different analysis methods to generate as much and meaningful data as possible. For example, it makes sense to use a combination of Heatmaps, Scrollmaps, form analysis, and Mouse tracking. These functions provide the optimal interaction between information about individual user interests, behaviors, and peculiarities of individual users. For example, Heatmaps can be used to detect where most users really click or where to move their mouse most often.
It is interesting to note that there is a correlation between mouse and view directions. It can be recognized which areas of the website really work and attract the attention of users. A Scrollmap can be used to determine where users are getting out. As a result, breaks in the user guide can be detected. Form analyses help to find and evaluate problems and optimization potentials in the checkout process. In this case, exits for individual fields can be easily researched. In addition, unlike classic A/b tests, it is not necessary to try out different variants.
During Mouse tracking, individual user sessions can be analyzed. Here, visitors to a website can literally be looked over the shoulder. If there are discrepancies with several users, these findings can be used for optimization.
Conversion optimization is a sometimes tedious process because many small details can cause a conversion break. In most cases, however, the problem is simply the lack of fixation of the aims and the lack of a perspective for optimization measures. Ultimately, in the case of online shops, the objective should always be: "Sell customers ' products!".